Beko Washer Capacity 8 Kg, 14 Programs, Inverter Brushless Motor Save Energy, Dark Stainless.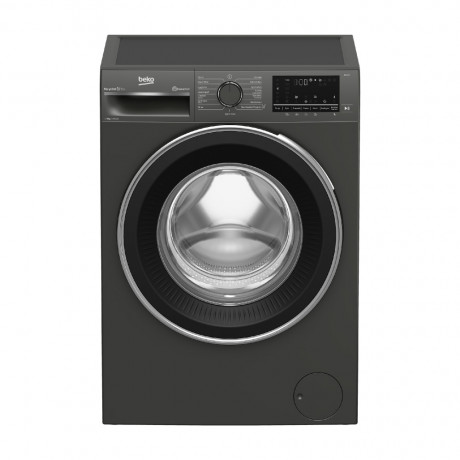 Key Features

Capacity: 8 Kg

Color: Dark Stainless

Motor: ProSmart Inverter

Screen: LED

Number Of Programs: 14 Ready Programs

Number Of Programs through Wifi: 5 Programs

Number Of Courses: 1400

Energy Rating: A

Recycled Tub
For healthy living on a healthy planet
In our drive to help the planet, we chose to use recycled plastic bottles for the tubs of our Beko RecycledTub™ series of washing machines and washer dryers. In 2019 and 2020 alone, a total of 398 tons* of recycled plastics found a new life in these products. Using our patented, innovative technology, we turn plastic flakes into a high-performance material that ensures our washing machines and washer dryers continue to offer exceptional results and durability. *Parent company production in 2019 & 2020.



HomeWhiz
Get the laundry done on the go
This model lets you control and monitor your washing from your smartphone or tablet. Using Bluetooth and the HomeWhiz app, the programme wizard will pick the best cycle for your load of washing, and you can even download new programmes to suit your needs perfectly. The best bit – you can set the time you want your laundry to be finished. Perfect for when you've got a busy day ahead.



Cotton Program
Intensive washing program, designed to avoid damage to cotton items.




Synthetics Program
Program designed for less resistant clothes, such as those made of synthetic material, which do not require intensive washing.





Hygiene+
Better Hygiene Guaranteed
Hygiene+ program is powered by ProSmart Inverter Motor. It comes with custom drum movements, sensitive temperature control and additional rinse and spin cycles. Hygiene+ cleans laundry at any temperature between 20°C to 90°C. Cycles that are as low as 20°C uses 70% less energy than conventional programs*, while the 60°C cycle eliminates up to 99.9% of allergens.



Aquawave
Through the special design of the tub, Aquawave technology, creates optimal washing conditions for laundry and ensures efficient but gentle cleaning, without movements that could affect the fabric. The unique contour of the tub and the shape of the paddles allow a fluid movement of the laundry during washing, imitating the natural rhythm of the waves. Thus, your favorite shirt will look like new with every wash.



Shirts
This washing program is dedicated to cotton shirts, articles made of synthetic or combined materials.Your shirts will look like new even after many washes!



Dark Care/Jeans
You are passionate about fashion, then you know that you must have at least one black outfit in your wardrobe. The Darkcare program is specially designed for dark-colored, synthetic or cotton clothing items. It prevents discoloration and preserves the color intensity of the clothes, like new.



ProSmart Inverter
ProSmart Inverter Motor high efficiency, high durability, low noise
Don't stress about your energy bill or give yourself a headache every time you wash your clothes. Thanks to a brushless motor design, ProSmart offers energy efficiency, lower sound levels and higher durability – all in a single machine. All so you get the most from your washing machine without disturbing your monthly budget or piece of mind.



Down Wear
This program is specially designed for washing goose down winter jackets. With Beko we are ready for winter!



Fast+
Fast+ Function
If you think life is too short to sit around and wait for the washing machine to be done, here's something to get back time. The Fast+ function senses the type of fabric and the amount of clothes automatically, optimizing the washing programme and letting you reduce programme duration up to 55%* at the touch of a button. * Tested by internal laboratories



StainExpert ™ Program
Put the white vinegar, the lemon juice and the dish soap away. They belong in the kitchen and your stained clothes belong in a washing machine with StainExpert™ Program. Whether it's coffee, ketchup, chocolate, makeup or blood, StainExpert™ is designed specially to get rid of 24 different kinds of stains so you won't have to pre-treat any stain anymore.



Xpress Super Xpress 14 Min Programme
2 kg of clean laundry in 14 min
Not all clothes require an intensive wash. Sometimes, a quick wash will do the trick. Xpress Super Short 14 Min Programme allows you to wash up to 2 kg of laundry in just 14 minutes. 2 kg might not sound like much but that's like 20 t-shirts! That's more than enough to get you out the door.



Woollens/Hand Wash
The program ensures a delicate washing of woolen clothes, without damaging them. Through an intelligent control of the washing machine tub and the water supply, the woolen clothes will not deform and you will be able to enjoy your favorite sweater for longer.



Outdoor / Sports Programme
Protection for waterproof fabrics
If you're an outdoor or sports person, you know that proper clothing is part of the investment, just like other equipment. The Outdoor / Sports Program's low tumbling action prevents friction within the drum, helping your clothes preserve their waterproof features and breathability. Now go out and enjoy the adventure.



Downloaded Program
Now you can download the programs you want much more easily, with the help of the download program, directly from the interface of your home appliances equipped with HomeWhiz®. You can select the desired program from the set of 5 preset programs and you can easily change it as many times as you need.



Function:
Function 1: Temp selection

Function 2: Spin speed selection
Sub-function 2: Reduce wrinkles (Anticrease)

Function 3: Prewash
Sub-Function 3: Drum Cleaning

Function 4: Steam function at the end of the program to reduce wrinkles and remove dirt (steam)
Sub-Function 4: Extra Rinsing

Function 5: Fast Wash (Fast+)
Sub-Function 5: Child Lock

Function 6: Ending Time, Ending In

Function 7: Remote Control
Sub-Function 7: Bluetooth Connectivity

Programs

Number Of Programs ( 14 )

Shirts: Program for washing shirts

Down wear: program for washing heavy duvets.

+Hygiene: a sterilization program to remove any bacteria or pathogens

Stain Expert: Program for removing stubborn stains

Outdoor / Sports: A program for sportswear

Dark care / Jeans: A program for dark clothes or jeans, and to preserve the color of dark clothes.

Rinse: A program for squeezing clothes at a high speed

Cottons: A program for washing cotton pieces (85% cotton and above)

Cottons Eco: Economical cotton washing program

Synthetics: A program for washing items made of polyester or nylon

Express: express wash programme

Woollens: program for washing woolen clothes

Gentle Care: A program to protect the fabric and colors of delicate fabrics.

Spin + drain: A program to drain any excess water in the wash cycle.

Downloaded program: To add any program through the application

Dimensions:

Width: 60 cm

Depth: 58 cm

Height: 84 cm

Warranty:

Warranty years (Device): One year.

Warranty years (Motor): 10 Years.

سياسة التبديل والارجاع

المنتجات يجب ان تكون جديدة وغير مستعملة للتمكن من تبديلها او ارجاعها. يجب ان يتم ترجيعها بغلافها او صندوقها الاصلي على ان يكون الغلاف الاصلي بحالة جيدة وغير مفتوح او ممزق. بامكاننا الامتناع عن قبول ترجيع او تبديل أي منتج تم فتحه، استعماله او احداث اي ضرر به

سياسة التبديل :

بامكانك التواصل بمركز خدمة عملاء سبيتاني خلال 24 ساعه من إستلام المنتج وإخبارهم بالخلل الموجود بالمنتج وبإمكانك تبديله خلال 14 يوم

مفهوم التبديل (ان يتم التبديل بنفس المنتج او بمنتج اخر )

حالات التبديل

1. في حال استلم الزبون منتج غير مطابق للمواصفات المدرجة على الموقع .

2. في حال كان هنالك كسر او خلل او عطل بالمنتج عند الاستلام .

3. السلعة التي استلمها الزبون ليست نفس التي قام بطلبها .

4. في حال عدم رغبتك بالمنتج بالرغم من انه يحمل نفس المواصفات التي قمت بطلبها ولا يوجد به خلل او عطل بامكانك التبديل مع دفع فرقية رسوم التوصيل حتى لو كانت الطلبية اكثر من 150 شيكل .

5. في حال لم يتم فتح واستخدام المنتج .

مفهوم الارجاع (ان يتم ارجاع المبلغ المدفوع للزبون)

بامكانك التواصل بمركز خدمة عملاء سبيتاني خلال 24 ساعه من إستلام المنتج وسيتم ارجاع المبلغ خلال 14 يوم .

1. بامكانك ارجاع الطلبية واسترداد المبلغ المدفوع في حال عدم انطابق حالات التبديل اعلاه .

الشروط التي لا ينطبق عليها سياسة الارجاع والتبديل :

2. تكون عليها ملاحظة "هذه السلعه لا ترد أو تستبدل"

3. لا تكون السلعة مدرجة مع بطاقة تبين أنه لا يمكن إرجاع هذه السلعة

4. أن يتم إعادة السلعة بنفس الحالة التي إستلمتها بها مع غلافها الاصلي.

5. في حال تم طلب المنتجات خصيصا من اجلك من الخارج .
Get support for this product
Find FAQs, troubleshooting, user manuals and tips
₪2,950
₪1,790
Save ₪1,160