Beko Dishwasher 6 Programs, 15 Place Setting, Inverter Brushless Motor, 3 Racks, Dark Stainless.
Product Code:
BDFN36523GQ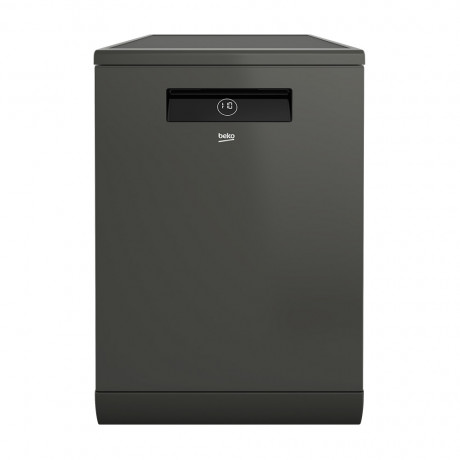 Key Features:

LCD Display And Touch Control

15 Place Setting Capacity

6 Cleaning Programs+ Programs That Can Be Added Through The HomeWhiz App

Prosmart Inverter Motor

Low Electricity Consumption Rated A

Reduced Water Consumption 5.9 Liters

Low Sound 44db

3 Shelves + 3 Water Sprayers

Aquantense For Deep Cleaning

Gloss Steam For More Cleaning With Steam

Folding Shelves (For Cups) 4

Possibility To Control Via Wifi

The Feature Of Opening The Door Automatically After The End Of The Cleaning Cycle

Beko HygieneShield™ Dishwasher
Using the power of nature's hot springs, dishes are steamed and rinsed in high temperatures with the HygieneIntense™ programme to kill more than 99.999% of bacteria and viruses and give you added peace of mind.



Downloaded Program With HomeWhiz
Now you can download the programs you want much more easily, with the help of the download program, directly from the interface of your home appliances equipped with HomeWhiz. You can select the desired program from the set of 6 preset programs and you can easily change it as many times as you need. The 6 preset programs are: AquaFlex, QuietWash, Delicate, Clean&Shine, Pre Wash, InnerClean.



AquaIntense
Intense water pressure for your dirtiest dishes
There's an easy way to wash those hard-to-clean dishes. AquaIntense creates a powerful cleaning zone with intense water pressure, so even your filthiest pots and pans get expertly clean. No matter what you make, or how long it cooks, your dishes come out spotless.



IonGuard
World's first chemical-free odour removing dishwasher
Say goodbye to the unpleasant odours that linger between washes. And never run another less-than-full wash just to avoid the smell of dirty dishes. IonGuard neutralizes smelly ions every hour and keeps your dishwasher odour free, so you get a clean-smelling kitchen without using chemicals.



3 Position Acrobat System
Height-adjustable upper rack
Say goodbye to all those times you can't figure out how to fit large dishes or long-stem glasses into the dishwasher. Now with the 3 Position Acrobat System, you can adjust the upper rack to 3 different positions to create more room on the lower rack for large dishes.



Fast+
3 times faster cleaning
Sometimes you don't have the time to wait for a full wash cycle to finish. The Fast+ function speeds up the washing cycle for up to 3 times* with optimum performance, meaning you can wash and serve in no time at all. *Tested by internal laboratories.



Easy-fold Plate Support
Extra room for pots & pans
Every time you cook, you're using different-sized pots and pans, and you need a dishwasher that understands that. The Easy Fold Plate Support lets you easily remove room for plates to fit in those massive pots and pans. The days of having to wash the largest items by hand are gone, and good riddance!



SteamGloss
Water-mark-free glasses
The table's set but your glasses look like they've got water marks on them. SteamGloss's 10-minute long extended heat cycle makes sure that glasses shine like they're brand new. With 23%* shinier glassware and 30%* shinier china, your next dinner table will dazzle anyone around. *Tested by 3rd party laboratories.




SoftTouch ™ Shelves
Optimal support for fragile glasses
Did another fragile glass break during washing? The patented SoftTouch ™ rack system for upper basket gently supports your glasses while preventing damage in the dishwasher. In addition, the shelves for the cups are adjustable in height and optimally support these delicate dishes.



Sliding Detergent Dispenser: easy-to-open dispenser lid
Don't hurt your fingers trying to open the detergent dispenser. The Sliding Detergent Dispenser is so easy to open and close that it makes adding detergent a doddle.




ProSmart Inverter Motor
ProSmart Inverter Motor is twice as quiet as standard motors
There's no reason to sacrifice the serenity of your kitchen for a dishwasher cycle. Our advanced ProSmart Inverter Motor is twice as quiet as standard motors while saving water and energy.




15 Place Setting Capacity
Great for a larger family's everyday needs, the large 15 place setting capacity means you can wash all your dishes, even bigger items, in one go.


Programs


Number of Programs (6+)

Program 1: Auto

Program 2: Intensive

Program 3: Eco

Program 4: Quick Shine

Program 5: Mini

Program 6: Downloadable Program

Functions:

Function 1: HygieneIntense: It is used when there is a need for greater hygiene when washing dishes.

Function 2: Steam Gloss: Provides superior drying performance.

Function 3: Very Soiled (AquaIntense): The impeller located under the lower fan helps to wash heavily soiled dishes in the places on the right side of the lower basket. It will give better results when the dirtiest dish is placed on the right front side.

Function 4: Time Delay : The start of the selected program can be delayed by 24 hours.

Function 5: Fast+: shortens the time of the selected wash cycle and reduces water consumption by enabling washing under higher pressure

Function 6: Automatic door opening (SelfDry): Automatic door opening function.

Function 7: Wireless connection (HomeWhiz): Remote control through the APP.

Warranty:

Warranty (Device) Years: 1

Warranty (Motor) Years: 10

Dimensions:

Poduct width: 59.8 cm

Product depth: 60 cm

Product height: 85 cm

سياسة التبديل والارجاع

المنتجات يجب ان تكون جديدة وغير مستعملة للتمكن من تبديلها او ارجاعها. يجب ان يتم ترجيعها بغلافها او صندوقها الاصلي على ان يكون الغلاف الاصلي بحالة جيدة وغير مفتوح او ممزق. بامكاننا الامتناع عن قبول ترجيع او تبديل أي منتج تم فتحه، استعماله او احداث اي ضرر به

سياسة التبديل :

بامكانك التواصل بمركز خدمة عملاء سبيتاني خلال 24 ساعه من إستلام المنتج وإخبارهم بالخلل الموجود بالمنتج وبإمكانك تبديله خلال 14 يوم

مفهوم التبديل (ان يتم التبديل بنفس المنتج او بمنتج اخر )

حالات التبديل

1. في حال استلم الزبون منتج غير مطابق للمواصفات المدرجة على الموقع .

2. في حال كان هنالك كسر او خلل او عطل بالمنتج عند الاستلام .

3. السلعة التي استلمها الزبون ليست نفس التي قام بطلبها .

4. في حال عدم رغبتك بالمنتج بالرغم من انه يحمل نفس المواصفات التي قمت بطلبها ولا يوجد به خلل او عطل بامكانك التبديل مع دفع فرقية رسوم التوصيل حتى لو كانت الطلبية اكثر من 150 شيكل .

5. في حال لم يتم فتح واستخدام المنتج .

مفهوم الارجاع (ان يتم ارجاع المبلغ المدفوع للزبون)

بامكانك التواصل بمركز خدمة عملاء سبيتاني خلال 24 ساعه من إستلام المنتج وسيتم ارجاع المبلغ خلال 14 يوم .

1. بامكانك ارجاع الطلبية واسترداد المبلغ المدفوع في حال عدم انطابق حالات التبديل اعلاه .

الشروط التي لا ينطبق عليها سياسة الارجاع والتبديل :

2. تكون عليها ملاحظة "هذه السلعه لا ترد أو تستبدل"

3. لا تكون السلعة مدرجة مع بطاقة تبين أنه لا يمكن إرجاع هذه السلعة

4. أن يتم إعادة السلعة بنفس الحالة التي إستلمتها بها مع غلافها الاصلي.

5. في حال تم طلب المنتجات خصيصا من اجلك من الخارج .
Get support for this product
Find FAQs, troubleshooting, user manuals and tips