Dyson Cordless Vacuum Cleaner Stick V11, Suction Power 185 AW, 0.76 Ltr, Red Color.
Product Code:
V11 Absolute extra Red 419660-01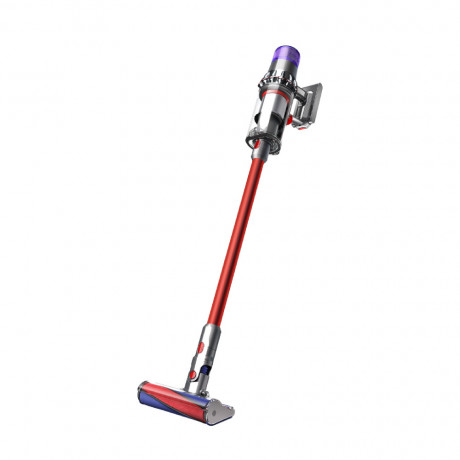 Specifications and features:

Engine: Dyson Hyperdymium

Screen: LCD

Measurements: 990mm high / 271mm long / 154mm wide

Suction power: 185 AW (air suction)

Motor (cycle): 125,000 rpm

Charging time: 4.5 hours

Usage time: up to 60 minutes in eco mode

Dust container volume: 0.76 liters

3 working modes: auto mode - maximum mode - eco mode

Weight: 3 kg

Main Brush: There is more than one main brush

Small brush: suitable for sofas and small carpets

Corner attachment: suitable for corners

Flat dusting brush: suitable for hard-to-reach places

Accessories: includes a number of brushes

Basic techniques:

Unique battery power management system
Dyson's power-optimising technology and battery-saving trigger help deliver up to 60 minutes run time in Eco mode on hard floors.



Removes dirt. De-tangles hair.
The Digital Motorbar™ cleaner head powerfully removes dirt and hair from all floors. Hair-removal vanes automatically de-tangle long hair and pet hair.



Intelligently reports in real time
Monitors system performance 8,000 times a second, then reports in real time on the LCD screen.



The right cleaning mode for the right task
Three cleaning modes optimised for a variety of tasks. The right balance of power and run time, where you need it.

Drop-in docking
The Dyson vacuum drops into the wall-mounted dock, to charge it and tidily store tools. So it's ready to grab and go.


Enough time to clean
Run time is up to 60 working minutes.


One Click Battery Module
Optional Removable Battery Remove and replace with the push of a button, for longer cleanings. An additional battery can be purchased separately


'Point and shoot' hygienic bin emptying
The 1.9-litre bin's 'point and shoot' mechanism wipes the silicone collar down the chemically-etched shroud in a single action, driving out dust hygienically.

Fade-free power
The seven-cell nickel-cobalt-aluminum battery has the fade-free power to clean here, there and everywhere around your home.



In-line configuration
The motor, bin and cyclone are aligned, so air is drawn into the cyclones in a straight line – helping to create powerful Dyson suction.



Powered by a Dyson Hyperdymium™ motor
Spins at up to 125,000rpm, creating the most powerful suction of any cordless vacuum.



Whole-machine filtration
The fully-sealed filtration system traps 99.97% of particles as small as 0.3 microns – expelling cleaner air.



Acoustically engineered
Designed to absorb vibrations and dampen noise, to keep sound levels down.



Radial Root Cyclone™ technology
14 cyclones generate forces of 79,000g to fling dust into the bin without clogging the filter, so there's no loss of suction.



In the box:

Motorbar™ cleaner head
43 de-tangling vanes automatically clear wrapped hair from the brush bar as you clean.



Fluffy™ cleaner head
A larger roller covered in soft woven nylon and anti-static carbon fibre filaments to remove fine dust and larger debris from hard floors




Combination tool
Two tools in one – wide nozzle and brush, for quick switching between tasks




Small brush, Hair screw tool




2 Filter



Wand storage clip




Crevice tool
Designed for precise cleaning around edges and narrow gaps.



Hinge attachment for access under the sofa



Charger



Docking station



Warranty: two years

سياسة التبديل والارجاع

المنتجات يجب ان تكون جديدة وغير مستعملة للتمكن من تبديلها او ارجاعها. يجب ان يتم ترجيعها بغلافها او صندوقها الاصلي على ان يكون الغلاف الاصلي بحالة جيدة وغير مفتوح او ممزق. بامكاننا الامتناع عن قبول ترجيع او تبديل أي منتج تم فتحه، استعماله او احداث اي ضرر به

سياسة التبديل :

بامكانك التواصل بمركز خدمة عملاء سبيتاني خلال 24 ساعه من إستلام المنتج وإخبارهم بالخلل الموجود بالمنتج وبإمكانك تبديله خلال 14 يوم

مفهوم التبديل (ان يتم التبديل بنفس المنتج او بمنتج اخر )

حالات التبديل

1. في حال استلم الزبون منتج غير مطابق للمواصفات المدرجة على الموقع .

2. في حال كان هنالك كسر او خلل او عطل بالمنتج عند الاستلام .

3. السلعة التي استلمها الزبون ليست نفس التي قام بطلبها .

4. في حال عدم رغبتك بالمنتج بالرغم من انه يحمل نفس المواصفات التي قمت بطلبها ولا يوجد به خلل او عطل بامكانك التبديل مع دفع فرقية رسوم التوصيل حتى لو كانت الطلبية اكثر من 150 شيكل .

5. في حال لم يتم فتح واستخدام المنتج .

مفهوم الارجاع (ان يتم ارجاع المبلغ المدفوع للزبون)

بامكانك التواصل بمركز خدمة عملاء سبيتاني خلال 24 ساعه من إستلام المنتج وسيتم ارجاع المبلغ خلال 14 يوم .

1. بامكانك ارجاع الطلبية واسترداد المبلغ المدفوع في حال عدم انطابق حالات التبديل اعلاه .

الشروط التي لا ينطبق عليها سياسة الارجاع والتبديل :

2. تكون عليها ملاحظة "هذه السلعه لا ترد أو تستبدل"

3. لا تكون السلعة مدرجة مع بطاقة تبين أنه لا يمكن إرجاع هذه السلعة

4. أن يتم إعادة السلعة بنفس الحالة التي إستلمتها بها مع غلافها الاصلي.

5. في حال تم طلب المنتجات خصيصا من اجلك من الخارج .
Availability:
Coming Soon