Midea RAC Split Inverter 2.3 Ton 27,280 BTU, Wi-Fi Control, Black Color.
Product Code:
Inverter-AG24HB3D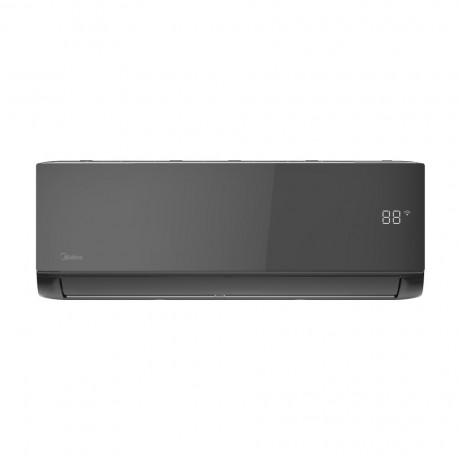 Key Features

27,621 BTU = 2.3 Ton

The ability to control the device via wifi

Inverter motor

Dual Filter

Noise level 20 dB

Prime Guard

Self-Cleaning

Avoid Wind

Diamond cabinet

R410A 2.35kg

Heating capacity 8100W

Cooling capacity 8000W

7 fan speed levels

Smart Technology
App Remote Control (Wi-Fi)
Control the air conditioner and set a timer easily through the APP on your smartphone. You can turn on the air conditioner in advance and enjoy the cooling room as soon as you arrive home.



4D Airflow Technology
4D Airflow uses multiple vents and fans to create a multi-directional airflow that circulates air in different directions, including up, down, left, right, forward, and backward. Overall, the 4D Air Flow technology is a great improvement over traditional air conditioning systems, ensuring an even distribution of cool or warm air, resulting in lower energy consumption, lower electricity bills, and a lower concentration of pollutants and allergens in the air by circulating the air more effectively.



Wind Avoid me
Direction of the air flow can be adjusted using the remote control. This allows you to avoid the air flow blowing directly on you, which can cause discomfort and may even lead to health issues in some cases, such as a stiff neck or a cold. By adjusting the direction of the air flow, you can direct the cool air towards the ceiling or the walls, which creates a more comfortable and even distribution of the air in the room.



Healthy
Dual Filtration.
The Dual Filtration system thoroughly eliminates harmful substances through the 2 steps, providing fresh and clean air to you.



Inverter
Compressor with inverter can increase the efficiency of the air conditioner, thus reducing power consumption saves your costs. This system is much more economical and safer than air conditioners with a constant output of the compressor.
Working at full capacity compressor inverter air conditioner quickly sets the desired temperature in the room. Then the output is adjusted depending on the ambient (outdoor) temperature and temperature changes inside the building. Thus, the predetermined temperature is maintained with high accuracy. Compressor when approaching a given temprerature gradually reduces the power and its achievements, continues to operate at minimum speed (power) and if there are no large heat leakage, to save power off after 5 minutes.





Diamond Design
The outdoor unit panels are made with a diamond design, which makes the construction stronger and resistant to vibrations. The new Bionic fan and Archimedes screw air outlet cover contribute to the quieter operation of the outdoor unit.



"Follow Me" Feature
When this function is enabled on the remote control, the control unit of the indoor unit will receive data about the temperature in the room from the temperature sensor installed in the remote control, which allows you to more precisely control the operation of the air conditioner, reaching the set mode in the area where the remote control is in the room. The range of the signal from the console does not exceed 8 m. in a straight line "remote - indoor unit".





Prime Guard
from Midea is characterized by greater resistance to oxidation and corrosion compared to the regular brushes for condensers in order to provide a stable and long-term working environment and can effectively prevent bacteria from multiplying and spreading and resisting corrosive elements.





Stability
Unlike other systems on the market, we fix the temperature within - + 0.5°C, ensuring a stable and comfortable cooling and heating experience with minimal temperature fluctuations through the continuous change of compressor rotational speed. This allows for smoother operation and thus lower power consumption.



Self-Cleaning
Cleaning heat exchanger to prevent the breeding of bacteria. The self-cleaning function spins the indoor unit fan in reverse, removing condensed water and eliminating bacteria from within the unit.





Low Noise
Operation lowest as 20db allows you to rest peacefully. The only sound is the cool air circulating the room.



Dimensions Of The Indoor Unit:

Indoor unit width: 108 cm

Indoor unit depth: 24 cm

Indoor unit height: 33 cm

Dimensions Of The Outdoor Unit:

Outdoor unit width: 94.6 cm

Outdoor unit Depth: 41 cm

Outdoor unit height: 81 cm

Warranty:

Warranty (Device) Years: 1

Warranty (Motor) Years: 5

Air Conditioner Key Specifications
Model Number
Inverter-AG24HB3D
Brand
Midea
Indoor Unit Type
Split
Compressor Type
Inverter
Capacity (BTU)
27,280
Size (Ton)
2.3 Ton
EER (Energy Efficiency Ratio)
3.80 W/W
COP (Coefficient of Performance)
3.81 W/W
Color
Black
Recommended Room Size (M2)
32~47
Air Conditioner Features
WiFi Control
Yes
Timer
Yes
Turbo Mode
Yes
Sleep Mode
Yes
Low Noise
Yes
Follow Me
Yes
Number Of Fan Speeds
3
Filter Type
Dual Filter
Air Conditioner General Info
Country Of Origin
China
Energy Grade
A
(Indoor Unit) Net/Gross Weight (Kg)
13.4/16.9
(Outdoor Unit) Net/Gross Weight (Kg)
54.7/59
Air Conditioner Technical Detals
Phase
1 Phase
Rated Voltage
220-240V
Air Conditioner Warranty Info
Warranty (Device) Years
1
Warranty (Motor) Years
5
Air Conditioner Dimensions
Indoor Unit Width (Cm)
108 cm
Indoor Unit Depth (Cm)
24 cm
Indoor Unit Height (Cm)
33 cm
Outdoor Unit Width (Cm)
94.6 cm
Outdoor Unit Depth (Cm)
41 cm
Outdoor Unit Height (Cm)
81 cm

سياسة التبديل والارجاع

المنتجات يجب ان تكون جديدة وغير مستعملة للتمكن من تبديلها او ارجاعها. يجب ان يتم ترجيعها بغلافها او صندوقها الاصلي على ان يكون الغلاف الاصلي بحالة جيدة وغير مفتوح او ممزق. بامكاننا الامتناع عن قبول ترجيع او تبديل أي منتج تم فتحه، استعماله او احداث اي ضرر به

سياسة التبديل :

بامكانك التواصل بمركز خدمة عملاء سبيتاني خلال 24 ساعه من إستلام المنتج وإخبارهم بالخلل الموجود بالمنتج وبإمكانك تبديله خلال 14 يوم

مفهوم التبديل (ان يتم التبديل بنفس المنتج او بمنتج اخر )

حالات التبديل

1. في حال استلم الزبون منتج غير مطابق للمواصفات المدرجة على الموقع .

2. في حال كان هنالك كسر او خلل او عطل بالمنتج عند الاستلام .

3. السلعة التي استلمها الزبون ليست نفس التي قام بطلبها .

4. في حال عدم رغبتك بالمنتج بالرغم من انه يحمل نفس المواصفات التي قمت بطلبها ولا يوجد به خلل او عطل بامكانك التبديل مع دفع فرقية رسوم التوصيل حتى لو كانت الطلبية اكثر من 150 شيكل .

5. في حال لم يتم فتح واستخدام المنتج .

مفهوم الارجاع (ان يتم ارجاع المبلغ المدفوع للزبون)

بامكانك التواصل بمركز خدمة عملاء سبيتاني خلال 24 ساعه من إستلام المنتج وسيتم ارجاع المبلغ خلال 14 يوم .

1. بامكانك ارجاع الطلبية واسترداد المبلغ المدفوع في حال عدم انطابق حالات التبديل اعلاه .

الشروط التي لا ينطبق عليها سياسة الارجاع والتبديل :

2. تكون عليها ملاحظة "هذه السلعه لا ترد أو تستبدل"

3. لا تكون السلعة مدرجة مع بطاقة تبين أنه لا يمكن إرجاع هذه السلعة

4. أن يتم إعادة السلعة بنفس الحالة التي إستلمتها بها مع غلافها الاصلي.

5. في حال تم طلب المنتجات خصيصا من اجلك من الخارج .
Get support for this product
Find FAQs, troubleshooting, user manuals and tips