Segafredo Coffee Whole Beans 1Kg, Buono.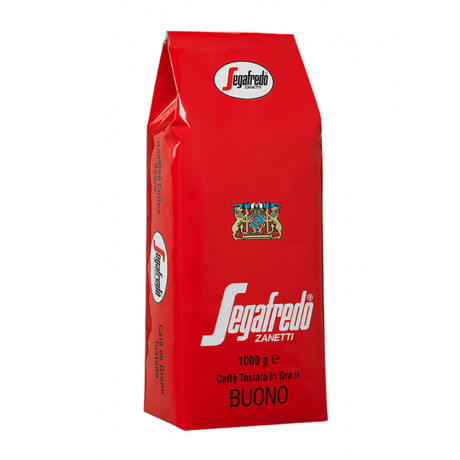 Segafredo Coffee Whole Beans 1Kg 286 Buono

Description

Passion and experience are the secrets of Segafredo Zanetti, the favourite coffee brand in cafés all over the world. Buono is a blend of the highest qualities of Arabica and Robusta coffees, ideal to obtain a creamy espresso and an intense taste into your coffee. The classic Italian roast of this blend provides it with the characteristic full-bodied and strong flavour.

The Segafredo Buono espresso coffee blend of three Arabica coffee beans to one Robusta coffee bean gives a strong coffee flavour that is stunning when used in a cappuccino or latte. With its complex yet light notes of citrus, floral and hazelnut highlights; Buono by Segafredo Zanetti is a wonderful smooth blend which can be enjoyed at any time. The expertly composed mix of South American coffee beans is a delicious blend that with a delicate flavour that slowly reveals itself. By only using the freshest coffee beans in this blend, Segafredo ensures your taste satisfaction delivering you the authentic Italian coffee experience from plant to cup.

Made In China

سياسة التبديل والارجاع

المنتجات يجب ان تكون جديدة وغير مستعملة للتمكن من تبديلها او ارجاعها. يجب ان يتم ترجيعها بغلافها او صندوقها الاصلي على ان يكون الغلاف الاصلي بحالة جيدة وغير مفتوح او ممزق. بامكاننا الامتناع عن قبول ترجيع او تبديل أي منتج تم فتحه، استعماله او احداث اي ضرر به

سياسة التبديل :

بامكانك التواصل بمركز خدمة عملاء سبيتاني خلال 24 ساعه من إستلام المنتج وإخبارهم بالخلل الموجود بالمنتج وبإمكانك تبديله خلال 14 يوم

مفهوم التبديل (ان يتم التبديل بنفس المنتج او بمنتج اخر )

حالات التبديل

1. في حال استلم الزبون منتج غير مطابق للمواصفات المدرجة على الموقع .

2. في حال كان هنالك كسر او خلل او عطل بالمنتج عند الاستلام .

3. السلعة التي استلمها الزبون ليست نفس التي قام بطلبها .

4. في حال عدم رغبتك بالمنتج بالرغم من انه يحمل نفس المواصفات التي قمت بطلبها ولا يوجد به خلل او عطل بامكانك التبديل مع دفع فرقية رسوم التوصيل حتى لو كانت الطلبية اكثر من 150 شيكل .

5. في حال لم يتم فتح واستخدام المنتج .

مفهوم الارجاع (ان يتم ارجاع المبلغ المدفوع للزبون)

بامكانك التواصل بمركز خدمة عملاء سبيتاني خلال 24 ساعه من إستلام المنتج وسيتم ارجاع المبلغ خلال 14 يوم .

1. بامكانك ارجاع الطلبية واسترداد المبلغ المدفوع في حال عدم انطابق حالات التبديل اعلاه .

الشروط التي لا ينطبق عليها سياسة الارجاع والتبديل :

2. تكون عليها ملاحظة "هذه السلعه لا ترد أو تستبدل"

3. لا تكون السلعة مدرجة مع بطاقة تبين أنه لا يمكن إرجاع هذه السلعة

4. أن يتم إعادة السلعة بنفس الحالة التي إستلمتها بها مع غلافها الاصلي.

5. في حال تم طلب المنتجات خصيصا من اجلك من الخارج .
Get support for this product
Find FAQs, troubleshooting, user manuals and tips
Express Delivery (1-3 business days)