Philips Coffee Machine Espresso 1500W, Black Color.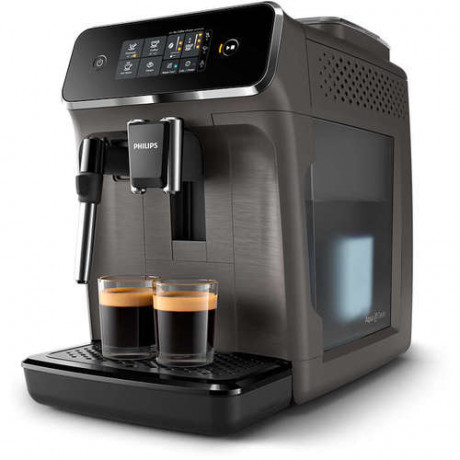 2 delicious coffees from fresh beans, with ease

Thanks to the intuitive touch display

· 2 beverages

· Classic Milk Frother

· Matte black

· Touch display

Delicious milk froth thanks to the classic milk frother

The Classic Milk Frother dispenses steam, allowing you to easily prepare silky smooth milk froth for your cappuccino. What's more? With only two parts, the Classic Milk Frother is also easy to clean.

Easy selection of your coffee with intuitive touch display

The irresistible taste and aroma of coffee from fresh beans is just one touch away. Our intuitive touch display allows you to easily select your favorite coffee.

Adjust aroma strength and quantity via My Coffee Choice

Adjust the strength and quantity of your beverage with the My Coffee Choice menu. Easily choose from three different settings to suit your preferences.

From fine to coarse thanks to the 12-step grinder adjustment

Our durable ceramic grinders can be adjusted in 12 steps, so you can turn your beans into anything from ultra-fine powder to coarse grindings.

The perfect temperature, aroma and crema cup after cup**

The Aroma Extract system intelligently strikes the optimum balance between brewing temperature and aroma extraction by keeping the water temperature between 90 and 98°C, while regulating the water flow rate, so you can enjoy delicious coffees.

20,000 cups of finest coffee with durable ceramic grinders

Our grinders are 100% pure ceramic: extremely hard and precise, so you can enjoy fresh aromatic coffee, for at least 20.000 cups.

Keep your beans fresh for longer thanks to the aroma seal

The new Aroma seal protects your favorite coffee beans and makes sure they preserve their original aroma over time, while reducing the grinder noise.

Up to 5000 cups* without descaling thanks to AquaClean

Our patented innovation, AquaClean water filter, ensures you make the most out of your fully automatic coffee machine. By changing the filter at machine request, you will not need to descale your machine for up to 5000* cups, while enjoing clear and purified water. Once AquaClean is installed in your coffee machine, the descaling notification alarm is automatically deactivated.

Easy cleaning thanks to fully removable brew group

The brew group is the heart of every fully automatic coffee machine, and should be cleaned regularly. The removable brew group allows you to clean it thoroughly just by rinsing it under the tap.

Automatic descaling for your convenience

It's easy to clean and maintain your coffee machine with the automatic program which notifies when you have to descale it. You can adjust the frequency of this procedure to match the water hardness at home.

Dishwasher safe parts for your convenience

For your convenience, you can put LatteGo (or Classic Milk frother), drip tray and the coffee ground container in the dishwasher. This will save time and ensure a hygienic cleaning.

Technical Specifications

Country of origin

Designed in

Made in

General specifications

User Interface

Milk Solution

Technical specifications

Capacity waste container

Frequency

Max. cup height

Voltage

Color & Finishing

Cord length

Waste container

Water tank

Weight of product

Product dimensions

Coffee bean capacity

Capacity water tank

Filter compatibility

Pump pressure

Customization

Aroma Strength Settings

Grinder Settings

Pre Brew Aroma control

Temperature settings

Variety

Beverages

Coffee Powder Option

Double Cup

Milk Double Cup

Other features

Removable brew group

Aroma Seal

Guided descaling

AquaClean

Accessories

Included

Water hardness test strip

<p class="p-heading-03 p-heading-light p-s08__spec-title" style="border: 0px; margin: 0px 0px 13px; padding: 0px 14px 0px 0px; font-style: inherit; fon

سياسة التبديل والارجاع

المنتجات يجب ان تكون جديدة وغير مستعملة للتمكن من تبديلها او ارجاعها. يجب ان يتم ترجيعها بغلافها او صندوقها الاصلي على ان يكون الغلاف الاصلي بحالة جيدة وغير مفتوح او ممزق. بامكاننا الامتناع عن قبول ترجيع او تبديل أي منتج تم فتحه، استعماله او احداث اي ضرر به

سياسة التبديل :

بامكانك التواصل بمركز خدمة عملاء سبيتاني خلال 24 ساعه من إستلام المنتج وإخبارهم بالخلل الموجود بالمنتج وبإمكانك تبديله خلال 14 يوم

مفهوم التبديل (ان يتم التبديل بنفس المنتج او بمنتج اخر )

حالات التبديل

1. في حال استلم الزبون منتج غير مطابق للمواصفات المدرجة على الموقع .

2. في حال كان هنالك كسر او خلل او عطل بالمنتج عند الاستلام .

3. السلعة التي استلمها الزبون ليست نفس التي قام بطلبها .

4. في حال عدم رغبتك بالمنتج بالرغم من انه يحمل نفس المواصفات التي قمت بطلبها ولا يوجد به خلل او عطل بامكانك التبديل مع دفع فرقية رسوم التوصيل حتى لو كانت الطلبية اكثر من 150 شيكل .

5. في حال لم يتم فتح واستخدام المنتج .

مفهوم الارجاع (ان يتم ارجاع المبلغ المدفوع للزبون)

بامكانك التواصل بمركز خدمة عملاء سبيتاني خلال 24 ساعه من إستلام المنتج وسيتم ارجاع المبلغ خلال 14 يوم .

1. بامكانك ارجاع الطلبية واسترداد المبلغ المدفوع في حال عدم انطابق حالات التبديل اعلاه .

الشروط التي لا ينطبق عليها سياسة الارجاع والتبديل :

2. تكون عليها ملاحظة "هذه السلعه لا ترد أو تستبدل"

3. لا تكون السلعة مدرجة مع بطاقة تبين أنه لا يمكن إرجاع هذه السلعة

4. أن يتم إعادة السلعة بنفس الحالة التي إستلمتها بها مع غلافها الاصلي.

5. في حال تم طلب المنتجات خصيصا من اجلك من الخارج .
Get support for this product
Find FAQs, troubleshooting, user manuals and tips