Food Appeal Cookware Set SELECT 4 Pcs Stainless Steel
Product Code:
7290117050705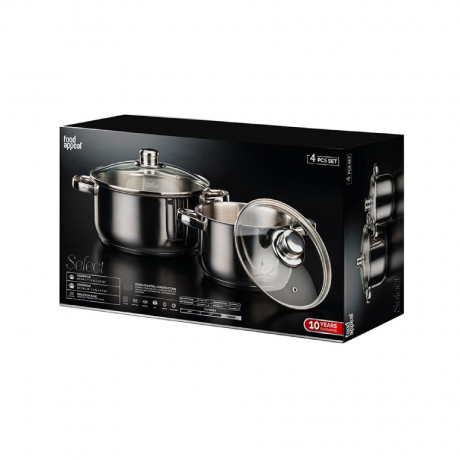 Stainless Steel Cookware Set - 4 Parts: Pot 18 cm, 2.4 Liters + Pot 24 cm, 4.5 Liters

SELECT: The Ultimate Stainless Steel Cookware Series

Experience innovation and uncompromising quality in your kitchen with the SELECT stainless steel cookware series. Our cookware guarantees tastier and richer cooking!

Features:

1. Sleek and Ergonomic Design:

The SELECT series is characterized by sharp lines and ergonomic design, ensuring comfort and ease of use.

2. Advanced Multi-Layered Technology:

Our cookware features a unique, multi-layered construction that combines stainless steel and aluminum. The 3-layered material consists of an aluminum core sandwiched between two layers of high-quality stainless steel. This smart combination utilizes the advantages of both materials, providing a strong base that won't deform with temperature changes, ensuring long-lasting durability.

3. High-Quality Stainless Steel:

Made from 18/10 stainless steel (18% chrome and 10% nickel), our cookware is resistant to rust and stains. The chrome protects against corrosion, while the nickel forms a protective layer and adds a beautiful shine.

4. Comfortable and Safe Handling:

The handles are designed from stainless steel casting and are positioned far from the hot surface for comfortable and safe use.

5. Easy and Clean Pouring:

The unique design of the vessel rim allows for easy and clean pouring without any leaks.

6. Convenient Capacity Markings:

The inside of the cookware includes capacity markings for easy and precise measurement.

7. Efficient Heat Dispersion:

The full induction bottom improves heat dispersion, enabling fast and energy-saving cooking. Our cookware is suitable for use in the oven up to 180 degrees Celsius (including the lid up to 150 degrees Celsius) and is compatible with gas, electric, ceramic, and induction stoves.

8. 10-Year Warranty:

We stand behind the quality of our cookware with a 10-year warranty.

Upgrade your cooking experience with the SELECT stainless steel cookware set. Invest in quality, durability, and culinary excellence.

سياسة التبديل والارجاع

المنتجات يجب ان تكون جديدة وغير مستعملة للتمكن من تبديلها او ارجاعها. يجب ان يتم ترجيعها بغلافها او صندوقها الاصلي على ان يكون الغلاف الاصلي بحالة جيدة وغير مفتوح او ممزق. بامكاننا الامتناع عن قبول ترجيع او تبديل أي منتج تم فتحه، استعماله او احداث اي ضرر به

سياسة التبديل :

بامكانك التواصل بمركز خدمة عملاء سبيتاني خلال 24 ساعه من إستلام المنتج وإخبارهم بالخلل الموجود بالمنتج وبإمكانك تبديله خلال 14 يوم

مفهوم التبديل (ان يتم التبديل بنفس المنتج او بمنتج اخر )

حالات التبديل

1. في حال استلم الزبون منتج غير مطابق للمواصفات المدرجة على الموقع .

2. في حال كان هنالك كسر او خلل او عطل بالمنتج عند الاستلام .

3. السلعة التي استلمها الزبون ليست نفس التي قام بطلبها .

4. في حال عدم رغبتك بالمنتج بالرغم من انه يحمل نفس المواصفات التي قمت بطلبها ولا يوجد به خلل او عطل بامكانك التبديل مع دفع فرقية رسوم التوصيل حتى لو كانت الطلبية اكثر من 150 شيكل .

5. في حال لم يتم فتح واستخدام المنتج .

مفهوم الارجاع (ان يتم ارجاع المبلغ المدفوع للزبون)

بامكانك التواصل بمركز خدمة عملاء سبيتاني خلال 24 ساعه من إستلام المنتج وسيتم ارجاع المبلغ خلال 14 يوم .

1. بامكانك ارجاع الطلبية واسترداد المبلغ المدفوع في حال عدم انطابق حالات التبديل اعلاه .

الشروط التي لا ينطبق عليها سياسة الارجاع والتبديل :

2. تكون عليها ملاحظة "هذه السلعه لا ترد أو تستبدل"

3. لا تكون السلعة مدرجة مع بطاقة تبين أنه لا يمكن إرجاع هذه السلعة

4. أن يتم إعادة السلعة بنفس الحالة التي إستلمتها بها مع غلافها الاصلي.

5. في حال تم طلب المنتجات خصيصا من اجلك من الخارج .
Get support for this product
Find FAQs, troubleshooting, user manuals and tips