Sony PlayStation 5, God of War: Ragnork, 825GB, White Color.
Product Code:
CFI-1216A-GOWV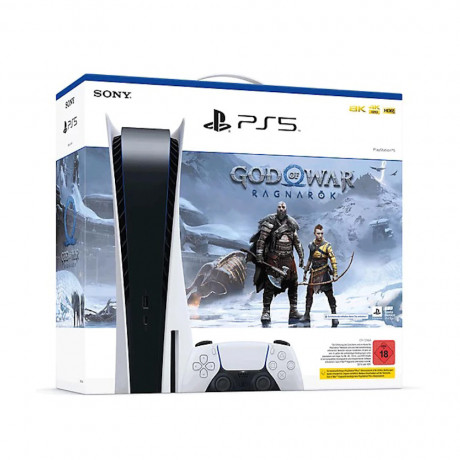 PS5 console with Blu-ray player + GOD OF WAR RAGNAROK game *PS5 voucher as download code

A new gaming experience is coming! Amazing graphics in 4K and 8K resolution with full HDR support and an image refresh rate of up to 120 FPS.

An ultra-fast SSD disk that enables extremely fast loading of games and content. An integrated and optimized input and output system for the PlayStation 5 that extracts information directly from the SDD disk and thus optimizes data processing in the game in a way that was not available until now.

The new and powerful central processor and graphics processor have been specially adapted for PlayStation 5 and provide exceptional graphic precision and visual effects that have not been seen before alongside new and incredibly detailed open worlds, all this alongside support for 4K and 8K resolution in selected games and an image refresh rate of up to 120 FPS for a smooth and clear image.

Ray Tracing technology provides a new level of realistic graphics, through this technology each ray of light is produced by a separate simulation that provides completely realistic lighting, shadows and reflections.

A storage capacity of 825 GB and support for new features such as 3D Audio, Adaptive Triggers and Haptic Feedback in supported games.

The box includes:

PS5 console in Bluray edition

GOD OF WAR RAGNAROK game disc *Voucher PS5

DualSense wireless controller

Game breaker

Desktop stand

Power cable

HDMI

cable USB Type-C cable

*As a download code and not a physical copy

You can add a DualSense Wireless Controller for PS5 for a fee:

The new and official controller for the PlayStation 5 console includes a variety of features that enrich and redefine the game! The DualSense controller has an ergonomic structure and a unique design

سياسة التبديل والارجاع

المنتجات يجب ان تكون جديدة وغير مستعملة للتمكن من تبديلها او ارجاعها. يجب ان يتم ترجيعها بغلافها او صندوقها الاصلي على ان يكون الغلاف الاصلي بحالة جيدة وغير مفتوح او ممزق. بامكاننا الامتناع عن قبول ترجيع او تبديل أي منتج تم فتحه، استعماله او احداث اي ضرر به

سياسة التبديل :

بامكانك التواصل بمركز خدمة عملاء سبيتاني خلال 24 ساعه من إستلام المنتج وإخبارهم بالخلل الموجود بالمنتج وبإمكانك تبديله خلال 14 يوم

مفهوم التبديل (ان يتم التبديل بنفس المنتج او بمنتج اخر )

حالات التبديل

1. في حال استلم الزبون منتج غير مطابق للمواصفات المدرجة على الموقع .

2. في حال كان هنالك كسر او خلل او عطل بالمنتج عند الاستلام .

3. السلعة التي استلمها الزبون ليست نفس التي قام بطلبها .

4. في حال عدم رغبتك بالمنتج بالرغم من انه يحمل نفس المواصفات التي قمت بطلبها ولا يوجد به خلل او عطل بامكانك التبديل مع دفع فرقية رسوم التوصيل حتى لو كانت الطلبية اكثر من 150 شيكل .

5. في حال لم يتم فتح واستخدام المنتج .

مفهوم الارجاع (ان يتم ارجاع المبلغ المدفوع للزبون)

بامكانك التواصل بمركز خدمة عملاء سبيتاني خلال 24 ساعه من إستلام المنتج وسيتم ارجاع المبلغ خلال 14 يوم .

1. بامكانك ارجاع الطلبية واسترداد المبلغ المدفوع في حال عدم انطابق حالات التبديل اعلاه .

الشروط التي لا ينطبق عليها سياسة الارجاع والتبديل :

2. تكون عليها ملاحظة "هذه السلعه لا ترد أو تستبدل"

3. لا تكون السلعة مدرجة مع بطاقة تبين أنه لا يمكن إرجاع هذه السلعة

4. أن يتم إعادة السلعة بنفس الحالة التي إستلمتها بها مع غلافها الاصلي.

5. في حال تم طلب المنتجات خصيصا من اجلك من الخارج .