Dyson Docking Station Stand Stick For V10.
Product Code:
Docking Station For  V10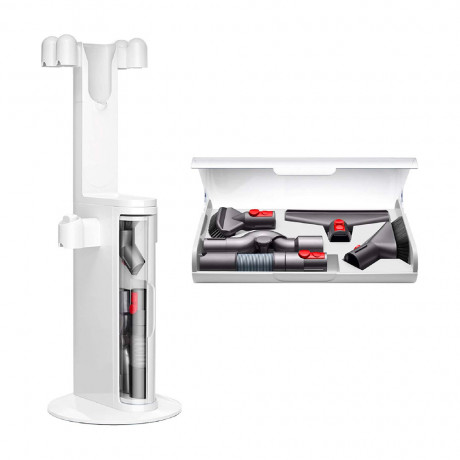 Dyson Cyclone V10 Dok™

Free-standing design, engineered to store your Dyson Cyclone V10™ vacuum and tools. Includes 5 additional tools.

Neatly stores and recharges

Floor-standing storage – no need to fix the dock to a wall to recharge. Designed for your Dyson Cyclone V10™ vacuum and all its tools, to optimize storage space. Allows easy access to tools during cleaning.

5 additional tools for whole-home cleaning

Includes extra tools, designed by Dyson engineers. So you always have the right one for the job.

Up-top adaptor

Connect tools to the wand at different angles for effective cleaning in high-up areas.

Mattress tool

Designed to remove dust and allergens from mattresses, cushions and upholstery.

Extension hose

Flexes and extends for easier cleaning in shallow or hard-to-reach areas.

Mini soft dusting brush

Soft bristles lift dust and allergens from flat surfaces and furniture.

Stubborn dirt brush

Designed for cleaning coarse or hard-wearing carpets, door mats and high-traffic areas of your home and car.

All features

Storage drawer

The extra tools slide into the Dyson Cyclone V10 Dok™, so they're there when you need them and out of sight when you don't.

Recharges your machine

Charges your Dyson Cyclone V10™ vacuum whenever it's docked. So it's always ready for use.

Holds 2 cleaner heads and 5 additional tools

Keeps all your tools in one place.

سياسة التبديل والارجاع

المنتجات يجب ان تكون جديدة وغير مستعملة للتمكن من تبديلها او ارجاعها. يجب ان يتم ترجيعها بغلافها او صندوقها الاصلي على ان يكون الغلاف الاصلي بحالة جيدة وغير مفتوح او ممزق. بامكاننا الامتناع عن قبول ترجيع او تبديل أي منتج تم فتحه، استعماله او احداث اي ضرر به

سياسة التبديل :

بامكانك التواصل بمركز خدمة عملاء سبيتاني خلال 24 ساعه من إستلام المنتج وإخبارهم بالخلل الموجود بالمنتج وبإمكانك تبديله خلال 14 يوم

مفهوم التبديل (ان يتم التبديل بنفس المنتج او بمنتج اخر )

حالات التبديل

1. في حال استلم الزبون منتج غير مطابق للمواصفات المدرجة على الموقع .

2. في حال كان هنالك كسر او خلل او عطل بالمنتج عند الاستلام .

3. السلعة التي استلمها الزبون ليست نفس التي قام بطلبها .

4. في حال عدم رغبتك بالمنتج بالرغم من انه يحمل نفس المواصفات التي قمت بطلبها ولا يوجد به خلل او عطل بامكانك التبديل مع دفع فرقية رسوم التوصيل حتى لو كانت الطلبية اكثر من 150 شيكل .

5. في حال لم يتم فتح واستخدام المنتج .

مفهوم الارجاع (ان يتم ارجاع المبلغ المدفوع للزبون)

بامكانك التواصل بمركز خدمة عملاء سبيتاني خلال 24 ساعه من إستلام المنتج وسيتم ارجاع المبلغ خلال 14 يوم .

1. بامكانك ارجاع الطلبية واسترداد المبلغ المدفوع في حال عدم انطابق حالات التبديل اعلاه .

الشروط التي لا ينطبق عليها سياسة الارجاع والتبديل :

2. تكون عليها ملاحظة "هذه السلعه لا ترد أو تستبدل"

3. لا تكون السلعة مدرجة مع بطاقة تبين أنه لا يمكن إرجاع هذه السلعة

4. أن يتم إعادة السلعة بنفس الحالة التي إستلمتها بها مع غلافها الاصلي.

5. في حال تم طلب المنتجات خصيصا من اجلك من الخارج .
Get support for this product
Find FAQs, troubleshooting, user manuals and tips