Dome Karaoke 12" with 2 Microphones Bluetooth Black Color.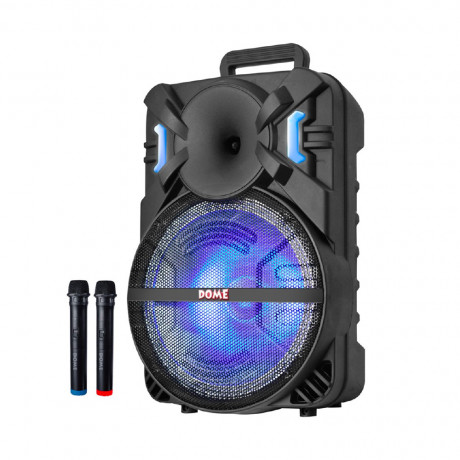 Dome Karaoke 12" D12KARO with 2 Microphones Bluetooth Black

Features:

- Easy operation - turn on and sing! User-friendly and quick-to-operate speaker interface

- 2 wireless microphones - included in the package! For perfect karaoke, easy and free use for two users

- Wired microphone - option to connect a wired microphone 6. To add a third singer in

- Bluetooth - a wireless connection in Bluetooth for streaming music wirelessly

- TWS - Bluetooth technology that allows 2 speakers to be connected to one audio source wirelessly, which gives you a powerful stereo experience (* must be a speaker of the same model)

- USB / SD input for playing MP3 files directly from card Memory

- display - shows the source of the music on which the speaker is activated such as: Bluetooth, AUX, USB for easy and simple operation

- Digital recording - recording karaoke directly on an on-key disk or memory card

- Echo - Echo volume selector for wireless microphones

- Main audio selector - control of the volume of the speaker and microphones connected at once

- AUX input - direct connection to smartphones, tablets and any music source with a 3.5 mm

- disco woofer port - with LED flashing lights Flashing for a second party atmosphere Power sources - can be operated both by the rechargeable battery and by direct power connection Allows prolonged use without interruption

- Carrying handle - for transferring entertainment from place to place safely and easily

Technical data

- Power 2000W PMPO

- Frequency response 40Hz-20kHz ± 3dB

- Sensitivity 88dB ± 3dB

- 4 resistance

- Battery Rechargeable 4400mAH

Box Contents

- 1 Bluetooth Speaker

- 2 Wireless Microphones

سياسة التبديل والارجاع

المنتجات يجب ان تكون جديدة وغير مستعملة للتمكن من تبديلها او ارجاعها. يجب ان يتم ترجيعها بغلافها او صندوقها الاصلي على ان يكون الغلاف الاصلي بحالة جيدة وغير مفتوح او ممزق. بامكاننا الامتناع عن قبول ترجيع او تبديل أي منتج تم فتحه، استعماله او احداث اي ضرر به

سياسة التبديل :

بامكانك التواصل بمركز خدمة عملاء سبيتاني خلال 24 ساعه من إستلام المنتج وإخبارهم بالخلل الموجود بالمنتج وبإمكانك تبديله خلال 14 يوم

مفهوم التبديل (ان يتم التبديل بنفس المنتج او بمنتج اخر )

حالات التبديل

1. في حال استلم الزبون منتج غير مطابق للمواصفات المدرجة على الموقع .

2. في حال كان هنالك كسر او خلل او عطل بالمنتج عند الاستلام .

3. السلعة التي استلمها الزبون ليست نفس التي قام بطلبها .

4. في حال عدم رغبتك بالمنتج بالرغم من انه يحمل نفس المواصفات التي قمت بطلبها ولا يوجد به خلل او عطل بامكانك التبديل مع دفع فرقية رسوم التوصيل حتى لو كانت الطلبية اكثر من 150 شيكل .

5. في حال لم يتم فتح واستخدام المنتج .

مفهوم الارجاع (ان يتم ارجاع المبلغ المدفوع للزبون)

بامكانك التواصل بمركز خدمة عملاء سبيتاني خلال 24 ساعه من إستلام المنتج وسيتم ارجاع المبلغ خلال 14 يوم .

1. بامكانك ارجاع الطلبية واسترداد المبلغ المدفوع في حال عدم انطابق حالات التبديل اعلاه .

الشروط التي لا ينطبق عليها سياسة الارجاع والتبديل :

2. تكون عليها ملاحظة "هذه السلعه لا ترد أو تستبدل"

3. لا تكون السلعة مدرجة مع بطاقة تبين أنه لا يمكن إرجاع هذه السلعة

4. أن يتم إعادة السلعة بنفس الحالة التي إستلمتها بها مع غلافها الاصلي.

5. في حال تم طلب المنتجات خصيصا من اجلك من الخارج .
Express Delivery (1-3 business days)