ASUS Gaming Mouse RGB Lighting, Black Color.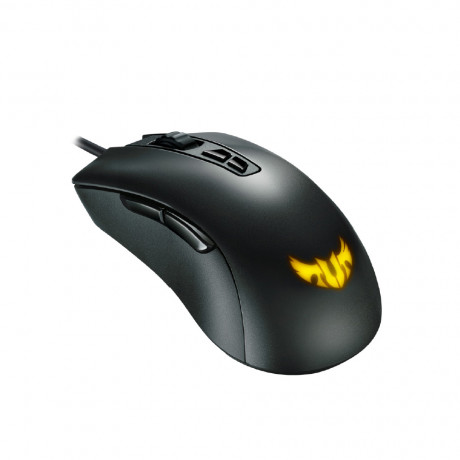 ASUS Gaming Mouse P305 TUF RGB Lighting

- 7 Programmable Buttons including 4-Level DPI Switch allows for customizing settings

- Precision Movement and Aiming delivered by battle-tested gaming-grade Optical Sensor

- Right Handed Ergonomic Lightweight USB Wired Optical Gaming Mouse

- ASUS Aura Sync RGB lighting features a nearly endless spectrum of colors

- ROG Armoury II software for easy customization

Product Description

TUF Gaming M3 is a compact gaming mouse that delivers the comfort, performance and reliability that gamers demand. It's ergonomic and lightweight for prolonged campaigns, with a high-precision optical sensor that gives you an edge in battle. Backed by 20-million-click switches and a specialized coating for exceptional durability, M3 is validated for tough duty. It also features customizable Aura Sync RGB lighting so you can dominate in personalized style.

RUGGED AND TOUCH

Inside and out, TUF Gaming M3 is built to provide years of service on the frontline. The outer shell features a specialized coating that's fortified to withstand a battery of more than 10 stringent abrasion, friction, and perspiration tests. To aid your K/D ratio during frantic battle, critical buttons use tactile switches that are rated for at least 20-million clicks, while the base features enhanced Teflon feet to keep movement smooth for countless hours.

سياسة التبديل والارجاع

المنتجات يجب ان تكون جديدة وغير مستعملة للتمكن من تبديلها او ارجاعها. يجب ان يتم ترجيعها بغلافها او صندوقها الاصلي على ان يكون الغلاف الاصلي بحالة جيدة وغير مفتوح او ممزق. بامكاننا الامتناع عن قبول ترجيع او تبديل أي منتج تم فتحه، استعماله او احداث اي ضرر به

سياسة التبديل :

بامكانك التواصل بمركز خدمة عملاء سبيتاني خلال 24 ساعه من إستلام المنتج وإخبارهم بالخلل الموجود بالمنتج وبإمكانك تبديله خلال 14 يوم

مفهوم التبديل (ان يتم التبديل بنفس المنتج او بمنتج اخر )

حالات التبديل

1. في حال استلم الزبون منتج غير مطابق للمواصفات المدرجة على الموقع .

2. في حال كان هنالك كسر او خلل او عطل بالمنتج عند الاستلام .

3. السلعة التي استلمها الزبون ليست نفس التي قام بطلبها .

4. في حال عدم رغبتك بالمنتج بالرغم من انه يحمل نفس المواصفات التي قمت بطلبها ولا يوجد به خلل او عطل بامكانك التبديل مع دفع فرقية رسوم التوصيل حتى لو كانت الطلبية اكثر من 150 شيكل .

5. في حال لم يتم فتح واستخدام المنتج .

مفهوم الارجاع (ان يتم ارجاع المبلغ المدفوع للزبون)

بامكانك التواصل بمركز خدمة عملاء سبيتاني خلال 24 ساعه من إستلام المنتج وسيتم ارجاع المبلغ خلال 14 يوم .

1. بامكانك ارجاع الطلبية واسترداد المبلغ المدفوع في حال عدم انطابق حالات التبديل اعلاه .

الشروط التي لا ينطبق عليها سياسة الارجاع والتبديل :

2. تكون عليها ملاحظة "هذه السلعه لا ترد أو تستبدل"

3. لا تكون السلعة مدرجة مع بطاقة تبين أنه لا يمكن إرجاع هذه السلعة

4. أن يتم إعادة السلعة بنفس الحالة التي إستلمتها بها مع غلافها الاصلي.

5. في حال تم طلب المنتجات خصيصا من اجلك من الخارج .
Express Delivery (1-3 business days)
Express delivery within 1-3 business days

Now you can pay with your card upon delivery!