Anker Wireless Charging Pad PowerWave 2 in 1 with Watch Charging Holder for Apple Watch White Color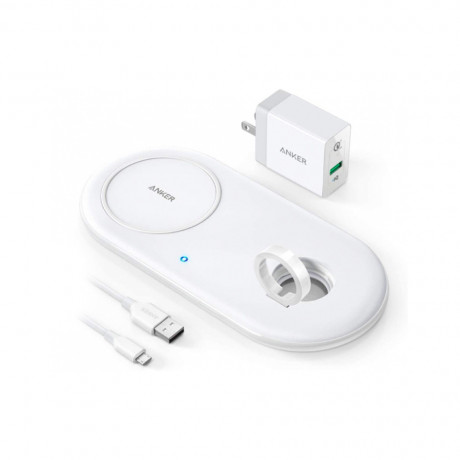 PowerWave+ Pad with Watch Holder

Qi Certified 2 in 1 Wireless Charging Pad with Apple Watch Holder for Apple Watch Series 4/3/2, Fast Charging iPhone Xs/XS Max/XR/X/8 (No Apple Watch Charger)

The PowerWave series of elite wireless chargers returns with a twist. Set your phone down on the charging surface and watch as an optimized charging current flows forth—no cables attached!

* Charge Apple Watch and iPhone Simultaneously

* Full-Speed Wireless Charging for iPhone

* Optimized Charging: Provides a full 7. 5W wireless charge for iPhone, faster than other wireless chargers.

* Flip it Up: Fold down the watch stand for easy storage, or flip up to obtain the perfect angle for the Apple Watch's Nightstand Mode.

* Case Friendly: Charges phones through most protective cases (keys, metal objects, or credit cards will interfere with charging).

* Certified Safe: Works safety and flawlessly with all Qi-compatible wirelessly-charged phones.

Features :

Fast charging

Cable Type: Micro USB

Easy Storage

Universal Compatibility

2 Charging Places

Tempreature Control

Radiation Shielding

Charge Simultaneously

Give your iPhone a full-speed wireless charge while your Apple Watch charges in its stand. Keep your daily smart essentials powered up in one convenient location.

Fold It

The watch holder folds down to save space, and flips up to provide the ideal charging dock for Apple Watch, compatible with Nightstand Mode.

Easy Set Up

Just open the bottom of PowerWave+ and wrap your Apple Watch charging cable inside. Pop up the watch holder and your 2-in-1 charging station is ready to go.

Compact and Portable

Fold up the watch charger to slide the slim, compact form factor into any business bag or luggage pocket.

Case Friendly

Transmits power straight through even heavy duty phone cases.

The Anker Advantage

High-speed charging. Leading technology. Join our family of over 30 million happy users, and change the way you charge.

سياسة التبديل والارجاع

المنتجات يجب ان تكون جديدة وغير مستعملة للتمكن من تبديلها او ارجاعها. يجب ان يتم ترجيعها بغلافها او صندوقها الاصلي على ان يكون الغلاف الاصلي بحالة جيدة وغير مفتوح او ممزق. بامكاننا الامتناع عن قبول ترجيع او تبديل أي منتج تم فتحه، استعماله او احداث اي ضرر به

سياسة التبديل :

بامكانك التواصل بمركز خدمة عملاء سبيتاني خلال 24 ساعه من إستلام المنتج وإخبارهم بالخلل الموجود بالمنتج وبإمكانك تبديله خلال 14 يوم

مفهوم التبديل (ان يتم التبديل بنفس المنتج او بمنتج اخر )

حالات التبديل

1. في حال استلم الزبون منتج غير مطابق للمواصفات المدرجة على الموقع .

2. في حال كان هنالك كسر او خلل او عطل بالمنتج عند الاستلام .

3. السلعة التي استلمها الزبون ليست نفس التي قام بطلبها .

4. في حال عدم رغبتك بالمنتج بالرغم من انه يحمل نفس المواصفات التي قمت بطلبها ولا يوجد به خلل او عطل بامكانك التبديل مع دفع فرقية رسوم التوصيل حتى لو كانت الطلبية اكثر من 150 شيكل .

5. في حال لم يتم فتح واستخدام المنتج .

مفهوم الارجاع (ان يتم ارجاع المبلغ المدفوع للزبون)

بامكانك التواصل بمركز خدمة عملاء سبيتاني خلال 24 ساعه من إستلام المنتج وسيتم ارجاع المبلغ خلال 14 يوم .

1. بامكانك ارجاع الطلبية واسترداد المبلغ المدفوع في حال عدم انطابق حالات التبديل اعلاه .

الشروط التي لا ينطبق عليها سياسة الارجاع والتبديل :

2. تكون عليها ملاحظة "هذه السلعه لا ترد أو تستبدل"

3. لا تكون السلعة مدرجة مع بطاقة تبين أنه لا يمكن إرجاع هذه السلعة

4. أن يتم إعادة السلعة بنفس الحالة التي إستلمتها بها مع غلافها الاصلي.

5. في حال تم طلب المنتجات خصيصا من اجلك من الخارج .
Get support for this product
Find FAQs, troubleshooting, user manuals and tips